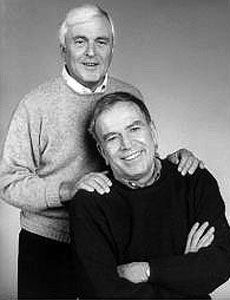 John Kander and Fred Ebb were brought together at the suggestion of their music publisher, Tommy Valando. They met, clicked and started working together. One of the first songs they wrote, "My Coloring Book," was performed by Sandy Stewart on The Perry Como Show. The show was flooded with mail requesting the song. Soon after that, a young, new singer, Barbra Streisand, recorded the song, making it a national hit, and that was the beginning of the Kander and Ebb collaboration that lasted over four decades, creating what many would consider Broadway standards and contemporary classics. Their first produced musical, Flora, The Red Menace, introduced the world to a young Liza Minnelli, winning her first Tony Award, followed by Cabaret (Tony Award); The Happy Time; Zorba; 70, Girls, 70; Chicago (the current revival is the fourth longest running show on Broadway and the longest running American Musical on Broadway); The Act; Woman of the Year (Tony Award); The Rink; Kiss of the Spider Woman (Tony Award); Steel Pier; Curtains and The Scottsboro Boys, all nominated for or winning just about every award possible. Their collaboration also transferred itself to movies and television as they wrote original material for the Academy Awards; Liza With a Z (Emmy Award) and HBO's Liza Minnelli's Stepping Out (Emmy Award); Funny Lady, including the Oscar-nominated song "How Lucky Can You Get;" Lucky Lady; New York, New York and Chicago, the movie, with the Oscar-nominated song, "Move On." Mayor Ed Koch made a declaration, causing the song "New York, New York" to become the official anthem of New York City.
Through all those collaborative years with Mr. Ebb, Mr. Kander would occasionally venture off on solo music projects. Scores for television and movies include An Early Frost, Breathing Lessons, The Boys Next Door, Kramer vs. Kramer, Blue Skies Again and Places of the Heart, to name a few. He was also commissioned to write a composition for Renée Fleming, "A Letter from Sullivan Ballou."
At the time of the unfortunate death of Mr. Ebb in September 2004, Kander and Ebb had several projects in different stages of completion waiting in the wings: The Visit (which had a very successful run in Chicago at the Goodman Theater in 2001 and in 2008 at the Signature Theatre in Arlington, VA), a musical adaption of the Thorton Wilder play The Skin of Our Teeth called All About Us (performed at the McCarter Theatre in Princeton and at the Westport County Playhouse), and two more musicals, including the 2007 Tony-nominated Curtains and the 2011 Tony-nominated The Scottsboro Boys. John Kander and Fred Ebb received the Kennedy Center Honors in 1998.