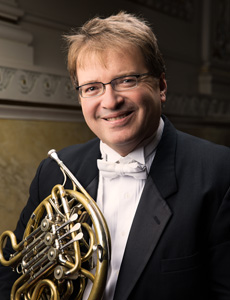 Principal Horn
Anonymous Foundation Chair

During the Pittburgh Symphony Orchestra's 2011 European Festivals Tour, William Caballero – and the horn section he leads – received rave reviews. Michael Church of The Independent called Caballero "a principal horn whose pianissimo is simply miraculous," and Guy Dammann wrote in The Guardian, "The horn section – led very much from the front by their excellent principal William Caballero – is one of the best in the business." In its September 2012 review of the Pittsburgh Symphony's Exton recording of Mahler's Symphony No. 5, Gramophone magazine wrote, "Pittsburgh's first horn is as spectacular as any on disc."
The 2013-2014 Pittsburgh Symphony Orchestra season represents Caballero's 24th year as its principal horn. Before joining the Pittsburgh Symphony in May 1989, Caballero previously held principal horn positions with the Houston Symphony, Houston Grand Opera and Hartford Symphony. He held third horn positions with the Montreal Symphony, Montreal Opera and acting third horn with the Boston Symphony and Boston Pops. He has also performed as guest principal horn with the Philadelphia Orchestra, the Los Angeles Philharmonic and the St. Louis Symphony.
Born in New Mexico and reared in Wisconsin, Caballero's early horn studies included working under Larry Simons, Barry Benjamin and Basil Tyler, as well as studying the piano and pipe organ. Caballero graduated from New England Conservatory in Boston where he studied with Richard Mackey and Thomas Newell, both former members of the Boston Symphony.

Currently, Caballero is the associate teaching professor of horn at Carnegie Mellon University School of Music. Previously, he held teaching positions at Indiana University Bloomington, Rice University in Houston, Texas and Duquesne University. He has been invited and presented master classes throughout the world including Northwestern University, Colburn School of Music, New England Conservatory, University of Indiana Bloomington, Cleveland Institute of Music, Curtis Institute of Music, Manhattan School of Music, New World Symphony and the Beijing and Shanghai Conservatories. The past two summers he joined the faculty of the Aspen Music Festival as performer and teacher. For the previous seven summers, Caballero was on the faculty and performed at the Pacific Music Festival in Sapporo, Japan.

In January 2012, Caballero began collaboration with the Internet music teaching company ArtistWorks.com based in Napa, California. His teaching website was released in September 2012 as the only complete horn teaching curriculum available via the internet for horn students worldwide.
Caballero is also in demand as a chamber musician collaborating with musicians such as violinists Gil Shaham, Joseph Silverstein and Philip Setzer, and pianists André Previn, Christoph Eshenbach, Orli Shaham and Andre Watts. Caballero also has performed and worked with jazz musician and composer Chris Brubeck, as well as ensembles that include the Tokyo String Quartet, Trio Johannas, Principal Strings of the Berlin Philharmonic, Center City Brass, Bay Chamber Concert Series, St. Barth's Music Festival and the Grand Teton Music Festival. He also is a member of the Pittsburgh Symphony Brass, which includes fellow colleagues of the Pittsburgh Symphony brass section.
Recent chamber music performances include performing Brahms' Horn Trio in E-flat major with Gil and Orli Shaham in Zankel Recital Hall, Carnegie Hall, New York and appearing several times live on National Public Radio's "Performance Today" in NPR's Washington, D.C. studios.

This season is Caballero's second appearance as soloist with Maestro Manfred Honeck. His first solo collaboration with Honeck was in September 2012 performing the Pittsburgh Symphony premiere of Strauss' Horn Concerto No. 1. Previous solo performances with the Pittsburgh Symphony have included Richard Strauss' Horn Concerto No. 2 in E-flatwith Maestro Lorin Maazel; Mozart's Horn Concerto No. 2 in E-flatwith Maestro Andre Previn; Mozart Concerto fragments with Pittsburgh Symphony Concertmaster Andres Cardenes; Britten's Serenade for Tenor, Horn and Strings with Maestro Stanislaw Skrowaczewski and tenor Anthony Griffey; Schumann's Konzertstück in F, for four horns and orchestra with his Pittsburgh Symphony horn colleagues under the baton of Maestro Sir John Elliot Gardener; and the John Williams Horn Concerto under the baton of Maestro Leonard Slatkin.

Other recent solo appearances outside of the Pittsburgh Symphony Orchestra have included performances in Montenegro with Maestro Ronald Zollman and with the Carnegie Mellon Philharmonic at New York City's Carnegie Hall under the baton of former principal horn of the Chicago Symphony Orchestra Dale Clevenger.

In May 1992, Caballero premiered Benjamin Lees' Concerto for Horn and Orchestrawith the Pittsburgh Symphony under the baton of then-Music Director Lorin Maazel. Following the performances in Pittsburgh, he performed Lees' Concerto in Spain, Germany and England with the Pittsburgh Symphony on tour. In May 1996, Caballero recorded the concerto with the Pittsburgh Symphony and Lorin Maazel for New World Records.

William holds the Pittsburgh Symphony Orchestra's Anonymous Foundation Principal Horn Chair.