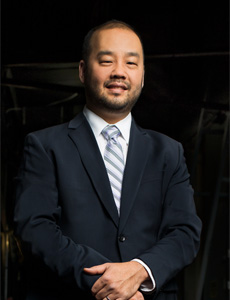 Resident Conductor of the Pittsburgh Symphony Orchestra, Music Director of the Northeastern Pennsylvania Philharmonic and Music Director of the Pittsburgh Youth Symphony Orchestra, Lawrence Loh has established himself as one of the most versatile and exciting conductors on the classical music scene. He was brought to national attention in February 2004 when he substituted last minute for an ailing Charles Dutoit with the Dallas Symphony Orchestra. Conducting Stravinsky's Petrouchka and Berlioz's Symphonie Fantastique, Loh received enthusiastic acclaim from orchestra players, audience members and critics, alike.
Since his appointment as Music Director of the Northeastern Pennsylvania Philharmonic in 2005, the orchestra has flourished artistically, defining its reputation as one of the finest regional orchestras in the country. His leadership has attracted such artists as André Watts, Anne Akiko Meyers, Jon Nakamatsu, Zuill Bailey and Sharon Isbin. A champion of early childhood exposure to music, Loh created a family concert series that is dedicated to the youngest of audiences. He is very active in the region as an arts leader and music advocate, and is constantly in demand as a guest speaker and clinician.
As Resident Conductor of the Pittsburgh Symphony Orchestra, Lawrence Loh works closely with Music Director Manfred Honeck and conducts a wide range of concerts including classical, educational and pops. He is active in the PSO's Community Engagement and Partnership Concerts, extending the PSO's reach into other communities. Recent notable concerts with the Pittsburgh Symphony include performances of Dvorak's 7th Symphony, Mendelssohn's 4th Symphony and Beethoven's 7th Symphony on a concert featuring violinist Sarah Chang. He made his debut on the main classical series conducting Handel's Messiah in December 2008. As the conductor of the enormously popular Fiddlesticks Family Series "Bringing Music to the Lives of Children," Lawrence Loh plays the part of host and conductor. In addition to his duties on the podium, he is an audience favorite in the PSO's Concert Preludes lecture series, edits radio broadcasts, and makes many public appearances. His association with the PSO began as Assistant Conductor in 2005-2006. He was promoted to Associate Conductor in 2006-2007 and to Resident Conductor in 2007-2008.
Lawrence Loh's recent guest conducting engagements include a debut with the National Symphony Orchestra and return engagements with the Dallas and El Paso Symphonies. Other recent guest conducting appearances include the Malaysian Philharmonic, the Detroit Symphony and the San Angelo Symphony. He has conducted the symphony orchestras of Portland, Cedar Rapids, Colorado Springs, East Texas, Fort Collins, Fort Worth, Lubbock, Plano, Shreveport, Sioux City, Spokane and Tallahassee among others. He has also led Korea's Daejeon Philharmonic Orchestra, the Binghamton Philharmonic, the Yale Philharmonia, Omaha Area Youth Orchestra, Ottawa's National Arts Centre Orchestra and the Dallas Chamber Orchestra. His summer appearances include the festivals of Bravo Vail Valley, Breckenridge, Las Vegas and Hot Springs, the Kinhaven Music School (VT), the Performing Arts Institute (PA) and the Carnegie Mellon Summer Strings Camp.
Lawrence Loh held the positions of Assistant and Associate Conductor of the Dallas Symphony from 2001-2005. He led the Dallas Symphony in a variety of classical and educational programs throughout each season including classical subscription. Highlights include impassioned performances of Brahms' Requiem, Rachmaninoff's Symphonic Dances and Brahms' 2nd Symphony.
Prior to his Dallas appointment, Lawrence Loh was appointed by Music Director Marin Alsop to be Associate Conductor of the Colorado Symphony Orchestra. From 1998-2001, he conducted more than 50 concerts annually, including classical subscription, pops, education, family and outreach programs. While in Denver, he was also Music Director of the Denver Young Artists Orchestra, the premiere youth orchestra in the Colorado Rocky Mountain Region. Additionally, Mr. Loh served as the Interim Director of Orchestras and Head of the Orchestral Conducting Program at Denver University's Lamont School of Music in 2000-2001.
In May 1998, Lawrence Loh received his Artist Diploma in Orchestral Conducting from Yale University, also earning the Eleazar de Carvalho Prize, given to the most outstanding conductor in the Yale graduating class. During his years at Yale, he was chosen to be the Assistant Conductor of the Norwalk Symphony Orchestra and Apprentice Conductor of the Hot Springs Music Festival. He received further training at the world-renowned Aspen Music Festival and School and has additional degrees from Indiana University and the University of Rochester. A dedicated teacher, Mr. Loh held the position of Associate Instructor in Music Theory at Indiana University and, later, that of Teaching Assistant at Yale University in Advanced Hearing, Conducting and Orchestration. He was also the Guest Curator at the Denver Museum of Nature and Science for "What Makes Music?" an interactive exhibit, offering the opportunity to explore the science of music and sound, as well as the role of music in culture.
Lawrence Loh was born in southern California of Korean parentage and raised in Carlisle, Pennsylvania. He and his wife Jennifer have a son, Charlie, and a daughter, Hilary.