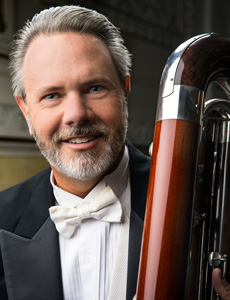 Principal Percussion
Albert H. Eckert Chair

Andrew Reamer joined the Pittsburgh Symphony Orchestra percussion section in 1989. He was appointed Associate Principal Percussion in 2003 and Principal Percussion in 2008.

He earned Bachelor of Music and Master of Music degrees from Temple University.

Reamer is Chair of Percussion at Duquesne University and plays jazz with PSO colleagues in The White Tie Group.

He has composed a popular collection of etudes for marimba entitled "Reamer's Elixirs Two-Mallet Fixers" and is an endorser for Zildjian Cymbals, Evans Drumheads, and Innovative Mallets.

He carries on a drum- and stick-making tradition that can be traced to the mid-19th-century, and his work and innovations can be viewed at drummersservice.com.

Reamer gets around Pittsburgh on a bike or in a kayak.