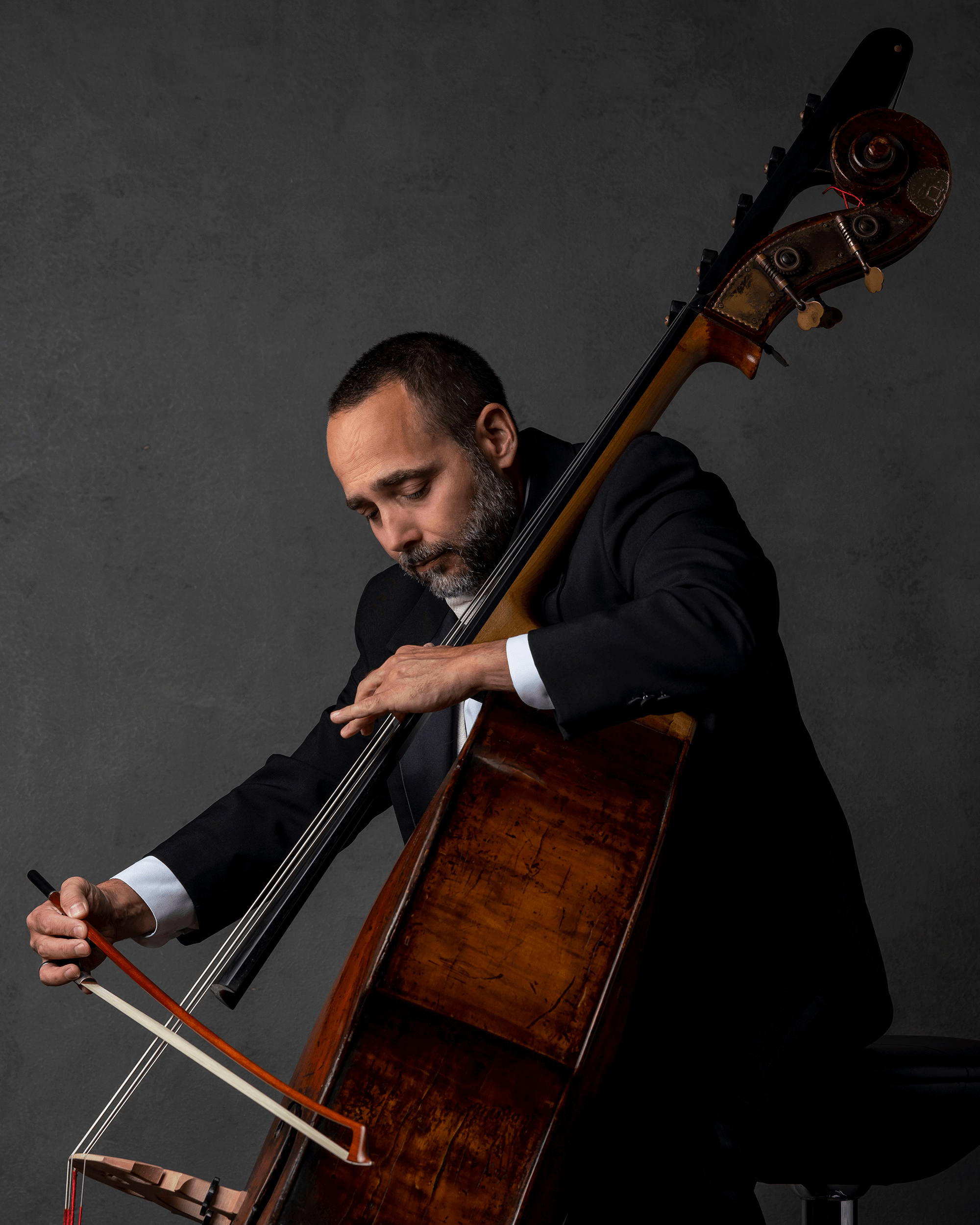 Micah Howard
Bass
Stephen & Kimberly Keen Chair
Micah Howard enjoys an enriching career as both a performer and a teacher. He joined the Pittsburgh Symphony Orchestra in 1996 at the age of 25. As a Pittsburgh Symphony member, he has toured five continents, including Europe, Asia, Australia, South America and North America. Howard regularly performs as a recitalist and chamber musician. He has also been featured as a soloist with the Pittsburgh Symphony Orchestra.
Micah Howard has always been active as a music educator. In addition to private teaching, he regularly serves as a lecturer for various universities, coaches youth ensembles, such as the Pittsburgh Youth Symphony Orchestra and the Youngstown Youth Symphony Orchestra, and in collaboration with the Pittsburgh Symphony's outreach program, visits local grade schools and high schools to coach ensembles and promote music education. Howard also served on the board of directors of the Pittsburgh Youth Symphony Orchestra for many years. He taught string bass as adjunct faculty at the Dana School of Music, Youngstown State University from 2000 to 2006, and Duquesne University from 2006 to 2014. Howard currently serves as Assistant Teaching Professor of Double Bass at Carnegie Mellon University. In 2010 Howard received the award for Outstanding String Teacher by the Pennsylvania-Delaware String Teachers Association for his outstanding achievement as a string teacher and his contributions to the string profession.
As a member of the Pittsburgh Symphony, MIcah Howard has served on several committees. He was most notably a member of the core audition committee for five years, serving as chair for two of those years. While on this committee, he played a role in hiring more than twenty full-time and substitute members of the orchestra. He was also involved in creating a new process instituted in 2005 to hire new musicians. He has also served as a member of the Orchestra and Artistic Committees.
Micah Howard is also very active as a member of the double bass community. He has organized several double bass symposiums in Youngstown, Ohio, and Pittsburgh, Pennsylvania. These symposiums bring together prominent bassists from around the country to perform recitals, serve as lecturers, and give master classes. He has also served as a contributing writer for Bass World Magazine.
Micah Howard received his Bachelor of Music degree from Youngstown State University and his Master of Music degree from Duquesne University School of Music. His teachers include Tony Leonardi, Rodney Van Sickle, Edward Pales, Peter Paul Adamiac and Jeffrey Turner. In 1995 he took first place in the International Society of Bassists Orchestral Competition.