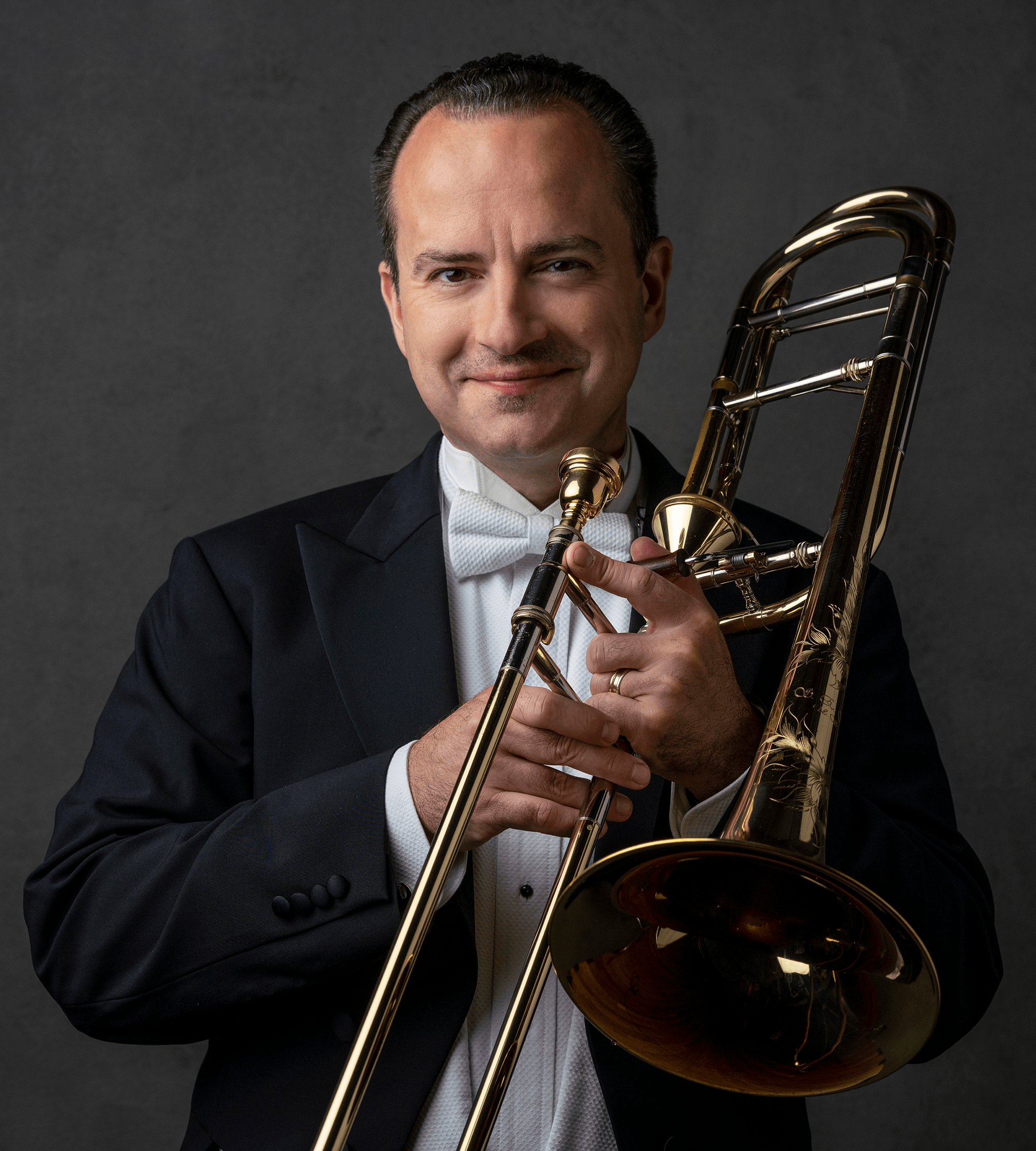 James Nova
Trombone
Ann McGuinn Trombone Chair
James Nova joined the Grammy award-winning Pittsburgh Symphony Orchestra in 2009 as second/utility trombone. In 2012, Nova made his solo debut with the PSO, performing Henri Tomasi's Concerto for Trombone and Orchestra. Prior to that, he was a member of the Utah Symphony Orchestra where he served eight seasons as assistant principal/second trombone.
Since 2012, James Nova has found a new passion in multitrack recording, also known as "overdubbing." Overdubbing is a process by which a musician records all the parts of a piece of music one by one and layers the recordings on top of each other to create a full ensemble. Nova has released dozens of stunning and virtuosic tracks of his own challenging arrangements of exciting repertoire for trombone choir. The arrangements employ many different trombones: contra bass, bass, tenor, small tenor, alto, and even soprano trombones!
James Nova has had a lifelong love of John Williams' film scores and in December of 2017, he released a new overdub album for trombone choir, A Fall from Light to Dark. Through the chosen moments of John Williams' masterful scores, this album musically chronicles the rise and descent of Anakin Skywalker as he transforms into Darth Vader. Truly a one-man show, this album's transcriptions, playing, recording, editing, mixing and mastering were all done by Nova himself.
James Nova has always been passionate about music education. When not on stage at Heinz Hall with the Pittsburgh Symphony, he can be found at the Mary Pappert School of Music at Duquesne University where he is brass coordinator and adjunct trombone faculty, as well as the brass coach of the Three Rivers Young Peoples Orchestras. Given their widespread popularity, Nova's recordings are playing an impactful role in inspiring the next generation of musicians and budding recording artists and he is frequently invited to teach outside the region. Since 2012, he has completed more than 82 visits to prominent festivals (such as the International Trombone Festival, American Trombone Workshop, and the Korea Trombone Festival, among others) and reputable educational institutions (such as the Curtis Institute of Music, Juilliard School of Music, and New England Conservatory, among others) as the featured artist and educator in concerts, masterclasses, and clinics.
James Nova studied with Glenn Dodson at the Curtis Institute of Music followed by study with Norman Bolter at the New England Conservatory of Music. While in Boston, Nova played regularly with the Boston Symphony Orchestra and the Boston Pops Orchestra, including recordings and television broadcasts as both principal and second trombone.
James Nova is an S.E. Shires Artist and performs on his signature line of Greg Black Mouthpieces.
Web Site and Social Media Accounts: Website | Facebook | Instagram | YouTube