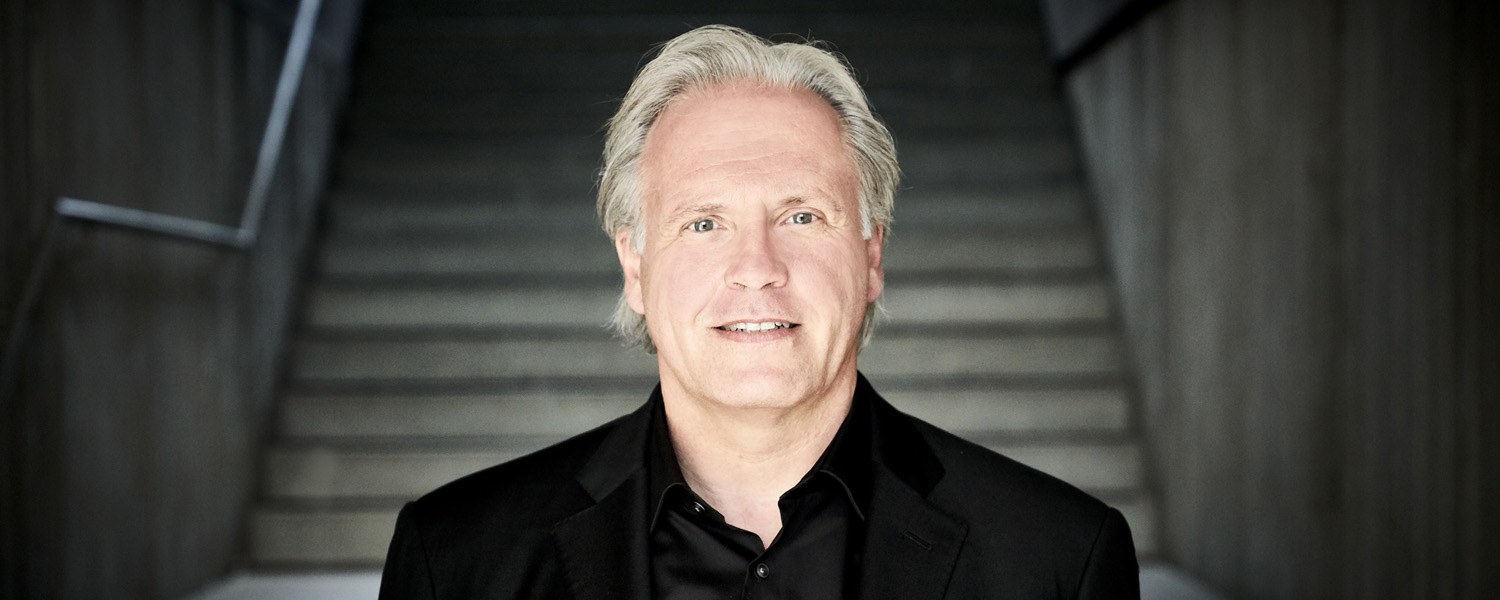 PITTSBURGH SYMPHONY ORCHESTRA WELCOMES MARKUS STENZ AS GUEST CONDUCTOR AND JUSTINE LAMB-BUDGE AND MEREDITH KUFCHAK AS NEW PSO MUSICIANS
For Immediate Release
November 1, 2018
PITTSBURGH, PA—The Pittsburgh Symphony Orchestra (PSO) announces several warm welcomes to the Heinz Hall for the Performing Arts stage. World-renowned conductor Markus Stenz joins the PSO for a trio of special performances featuring Rachmaninoff's Second Piano Concerto and more on Friday, January 11, Saturday, January 12 and Sunday, January 13, 2019. Stenz replaces Mirga Grazinyte- Tyla, who has had to postpone her debut with the Pittsburgh Symphony to a later season due to maternity/family leave following the birth of her first child. In addition, the PSO is proud to share that Justine Lamb-Budge has joined the orchestra on First Violin and Meredith Kufchak on Viola.
Stenz has been Chief Conductor of the Netherlands Radio Philharmonic Orchestra since 2012 and Principal Guest Conductor of the Baltimore Symphony Orchestra since the 2015/2016 season. Since January 2017, he has also been Conductor in Residence with the Seoul Philharmonic Orchestra. As a concert conductor, Stenz has been at the helm of many prestigious orchestras, including the Berlin Philharmonic, the Leipzig Gewandhaus Orchestra, the Munich Philharmonic, the Tonhalle-Orchester Zürich, the Vienna Symphony, the Orchestre de la Suisse Romande – and now the Pittsburgh Symphony Orchestra.
Stenz's PSO debut program will include:
Debussy: La cathedrale engloute [The Sunken Cathedral]
Rachmaninoff: Piano Concerto No. 2 with guest pianist Behzod Abduraimov
Busoni: Berceuse Elegiaque
Scriabin: The Poem of Ecstasy, Opus 54
"I speak for the entire PSO when I say we are thrilled to have Markus Stenz conducting at Heinz Hall," said PSO President and CEO Melia Tourangeau. "Performance after performance, Stenz consistently delivers exciting and inspiring interpretations. We can't wait to share this program with audiences."
"I'm truly looking forward to working with these exceptional musicians," said Stenz. "The PSO is one of the most buzzed-about symphonies right now, and the opportunity to perform this innovative and creative program is, personally, a season highlight for me."
Beginning this 2018-2019 season, the PSO also appointed two new musicians to its strings section. First Violinist Justine Lamb-Budge joins the PSO after holding the position of Associate Concertmaster of the Kansas City Symphony for three seasons and Violist Meredith Kufchak recently earned her master's degree in Chamber Music from the San Francisco Conservatory for Music.
"Justine Lamb-Budge and Meredith Kufchak are exceptional musicians that truly embody artistic excellence and passion for the artform. Both have strong backgrounds and have performed with leading musical organizations across the country," said PSO Music Director Manfred Honeck. "We are honored to have them join our roster and help us create musical experiences that are not only enjoyable, but also help enrich the quality of life in our city and surrounding communities."
Lamb-Budge and Kufchak join an exclusive group of 101 of the world's best musicians that make up the PSO.
Season tickets for the classical series, available in packages of six to 20 concerts, are $102-$1,470, with discounts for students and seniors. Subscription packages can be purchased in person at the Heinz Hall Box Office at 600 Penn Avenue, downtown Pittsburgh, by phone at 412.392.4900 or online at pittsburghsymphony.org/subscribe.
Individual tickets are available for Rachmaninoff's "Second Piano Concerto" at https://pittsburghsymphony.org/production/55688/rachmaninoffs-second-piano-concerto.
* * *
MARKUS STENZ, Chief Conductor of the Netherlands Radio Philharmonic Orchestra, Principal Guest Conductor of the Baltimore Symphony Orchestra, and Conductor-in-Residence of the Seoul Philharmonic Orchestra, is known for performances of great expressive scope, from Rameau to Berio, probing interpretations of German repertoire, and an audacious command of contemporary music. His previous appointments have included General Music Director of the City of Cologne and Gürzenich-Kapellmeister, Principal Guest Conductor of the Hallé Orchestra, Music Director of the Montepulciano Festival, Principal Conductor of the London Sinfonietta—one of the most renowned ensembles of contemporary music—and Artistic Director and Chief Conductor of the Melbourne Symphony Orchestra.
During the 2018-2019 season, Stenz leads the much-anticipated world premiere of Fin de Partie by György Kurtág at La Scala in November, broadcast live on RAI-Radio 3. The one-act opera, with a libretto based on the Samuel Beckett play, End Game, represents the 92-year-old Hungarian composer's first opera. Staged by Pierre Audi, the co-production with the Netherlands Opera receives its Dutch premiere in March 2019, which Maestro Stenz also leads. At Amsterdam's Concertgebouw and the Tivoli-Vredenburg concert hall in Utrecht, he conducts the Netherlands Radio Philharmonic Orchestra in concerts that range from Debussy's La Mer, to Bruckner's Eighth Symphony, and Walton's First Symphony, alongside works by Elgar and Julian Anderson. Other notable programs contrast Beethoven's "Eroica" Symphony with Schoenberg's Erwartung with soprano Asmik Grigorian; Kurtág's Petite musique solennelle, En homage à Pierre Boulez 90, Bartók's Viola Concerto with soloist Tabea Zimmermann; and Mahler's Das Lied von der Erde. A highlight of Stenz's
spring season is a concert performance with the Netherlands Radio Philharmonic Orchestra of Schreker's alluring, large-scale opera Die Gezeichneten (The Branded) at the Concertgebouw.
As principal guest conductor of the Baltimore Symphony Orchestra, Stenz welcomes Latvian violinist Baiba Skride, for performances of Sibelius's Violin Concerto in D minor, Op. 47, and works by Haydn and Wagner. Virtuoso Paul Huang joins Stenz and the Baltimore Symphony for the rarely played Violin Concerto by Khachaturian. He appears as guest conductor with the Pittsburgh, Oregon, and Nashville Symphonies.
Since his debut as an opera conductor at La Fenice in Venice, Stenz has led many world premieres, including three operas by Hans Werner Henze: Das Verratene Meer at the Deutsche Oper in Berlin, Venus und Adonis at the Bavarian State Opera in Munich, and L'Upupa und der Triumph der Sohnesliebe at the 2003 Salzburg Festival. Stenz has appeared at many of the world's major opera houses and international festivals, Teatro alla Scala, La Monnaie, English National Opera, Lyric Opera of Chicago, Edinburgh International Festival, the Bregenz Festival, where he conducted the world premiere of Solaris by Detlev Glanert in July 2012, and the Salzburg Festival.
He has conducted orchestras around the world including the Royal Concertgebouw Orchestra, Munich Philharmonic, Gewandhaus Orchestra, Berlin Phiharmonic, Tonhalle Orchestra Zurich, Vienna Symphony, NHK Symphony Orchestra, and the symphony orchestras of the Bayerische Rundfunk, Hessischer Rundfunk, WDR, and NDR. In the United States, Stenz has led the symphony orchestras of Chicago, Houston, Seattle, and St. Louis, Boston, Dallas, and the Los Angeles Philharmonic.
Stenz has been accorded an Honorary Fellowship by the Royal Northern College of Music and the Silberne Stimmgabel ("Silver Tuning Fork") by the German state of North Rhine-Westphalia. He resides in Cologne, Germany with his wife and two children.
JUSTINE LAMB-BUDGE has been dedicated to the violin since she was five years old. As a student of Principal Second Violin of the Philadelphia Orchestra, Kimberly Fisher, Lamb-Budge became passionate about a career in orchestral music. She received a bachelor's degree in 2013 from the Curtis Institute of Music, where she studied with Ida Kavafian and Joseph Silverstein. Furthering her studies with William Preucil at the Cleveland Institute of Music, Lamb-Budge received an Artist Diploma in Concertmaster Studies in 2015. Prior to joining the Pittsburgh Symphony, she held the position of Associate Concertmaster of the Kansas City Symphony for three seasons, where she also performed numerous times as soloist. Lamb-Budge previously held the position of Concertmaster with the Canton Symphony Orchestra (2013-2015), the Mansfield Symphony (2013-2014) and the National Philharmonic (2011-2013), as well as Associate Concertmaster of the Akron Symphony Orchestra (2013-2014). She has performed as guest Concertmaster with the National Symphony Orchestra and the Buffalo Philharmonic. Lamb-Budge frequently performs with the Philadelphia and Cleveland orchestras, and has participated in the Aspen Music Festival, Tanglewood Music Center, and Verbier Festival Orchestras.
Violist MEREDITH KUFCHAK received her master's degree in chamber music performance from the San Francisco Conservatory of Music, where she studied with Jodi Levitz. Born into a talented musical family, Kufchak grew up in Columbus, Ohio as the youngest of six musicians. She completed her undergraduate studies in viola performance at Rice University, where she studied with Ivo-Jan van der Werff at the Shepherd School of Music. Her commitments in viola and chamber music have brought her to appear at such prestigious competitions as the Fischoff National Chamber Music Competition as well as the St. Paul String Quartet Competition. Ms. Kufchak was a recipient of the Jack Kent Cooke Young Artist Award in 2010. Kufchak has made appearances at festivals such as Yellow Barn, Olympic Music Festival, and Tanglewood Music Center. While living in the Bay Area, she performed regularly with the San Francisco
Symphony, Santa Rosa Symphony, New Century Chamber Orchestra, and as principal viola of the Fresno Philharmonic Orchestra.
The 2018 GRAMMY Award-winning PITTSBURGH SYMPHONY ORCHESTRA, known for its artistic excellence for more than 120 years, is credited with a rich history of the world's finest conductors and musicians, and a strong commitment to the Pittsburgh region and its citizens. Past music directors have included Fritz Reiner (1938-1948), William Steinberg (1952-1976), Andre Previn (1976-1984), Lorin Maazel (1984-1996) and Mariss Jansons (1995-2004). This tradition of outstanding international music directors was furthered in fall 2008, when Austrian conductor Manfred Honeck became music director of the Pittsburgh Symphony. The orchestra has been at the forefront of championing new American works and gave the first performance of Leonard Bernstein's Symphony No. 1 "Jeremiah" in 1944 and John Adams' Short Ride in a Fast Machine in 1986. The Pittsburgh Symphony has a long and illustrious history in the areas of recordings and radio concerts. Its "Pittsburgh Live!" series with Reference Recordings has resulted in back-to-back Grammy Nominations in 2015 and 2016. As early as 1936, the Pittsburgh Symphony broadcast on the airwaves coast-to-coast and in the late 1970s it made the ground-breaking PBS series "Previn and the Pittsburgh." The orchestra has received increased national attention since 1982 through network radio broadcasts on Public Radio International, produced by Classical WQED-FM 89.3, made possible by the musicians of the Pittsburgh Symphony Orchestra. With a long and distinguished history of touring both domestically and overseas since 1900 — including international tours to Europe, the Far East and South America—the Pittsburgh Symphony continues to be critically acclaimed as one of the world's greatest orchestras.
HEINZ HALL FOR THE PERFORMING ARTS is owned and operated by Pittsburgh Symphony, Inc., a non-profit organization, and is the year-round home of the Pittsburgh Symphony Orchestra. The cornerstone of Pittsburgh's Cultural District, Heinz Hall hosts many events that do not feature its world-renowned Orchestra including Broadway shows, popular touring artists, comedians, speakers and much more. For a full calendar of upcoming non-symphony events at the hall, visit heinzhall.org.
---
Media Contacts
Aleta King | Vice President of Marketing & Sales
aking@pittsburghsymphony.org | 412.392.4833